Everything you need to know about omaha 8 poker!
<! - end topbox - >
Our Best Bonus Offers
Poker Room
Special Bonus
Details
Mansion Poker
100% up
to $600
Read
Full Tilt Poker
100% up
to $600
Read
Absolute Poker
150% up
to $500
Read
Ultimate Bet
111% up
to $1100
Read
Titan Poker
50% up
to $200
Read
Party Poker
100% up
to $500
Read
Pacific Poker
100% up
to $400
Read
Everest Poker
100% up
to $200
Read
Bwin Poker
100% up
to $500
Read
<! - end leftbox - >
Making Money: Putting it all Together
So, let's put all this together to summarize how you maximize your Win Rate
Practice good Game Selection. You should be aggressively searching out bad players, and avoiding good ones. PokerTracker and Playerview let you do this
Avoid playing while on Tilt. Figure out how to stop from going on tilt, and how to get off tilt once you're there.
Continue to Improve your game. Read this site and the other sites mentioned, particularly 2+2, to get better at playing given hands.
Play under a Rake Back agreement. You should be getting money back while playing
Search out bonuses. They pay you to play, so don't turn them down.
Move up in levels as soon as your bankroll and ability let you. I wrote this article for the 2+2 magazine (July Issue), to help you decide exactly what changes to make to your play so that you make the most money.
<! - end midbox - >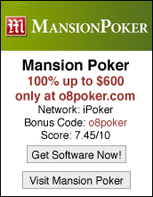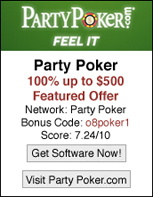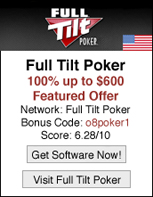 <! - end rightbox - >

<! - end rightbox - > <! - end clear - >

<! - end content - >