Everything you need to know about omaha 8 poker!
<! - end topbox - >
Our Best Bonus Offers
Poker Room
Special Bonus
Details
Mansion Poker
100% up
to $600
Read
Full Tilt Poker
100% up
to $600
Read
Absolute Poker
150% up
to $500
Read
Ultimate Bet
111% up
to $1100
Read
Titan Poker
50% up
to $200
Read
Party Poker
100% up
to $500
Read
Pacific Poker
100% up
to $400
Read
Everest Poker
100% up
to $200
Read
Bwin Poker
100% up
to $500
Read
<! - end leftbox - >
Bonuses
Just about all of the on-line poker sites offer bonuses to players. These bonuses come in two forms:
Bonuses you get for signing up in the first place, called Signup Bonuses, and
Ongoing bonuses you get if you will come play some hands at their site.
The signup bonuses are pretty straightforward - If you go signup at Party Poker, they'll pay you $50 after you have played 150 hands (or whatever the exact number of hands is). Be careful - you should only sign up at most sites after checking to see if you can get an affiliate deal!! Otherwise you are just losing money, since once you've signed up at a site, it is too late to get a deal. Read the Rakeback section of this site for more details.
For players who have already signed up for a site, what the sites do is offer a Bonus. The offer typically takes the following form:
"If you deposit $500, and come play 1000 raked hands within the next week, then after that time we will pay you $100 for coming to play at our site."
The actual amount you need to deposit, the number of hands you need to play, the time limit required, and the bonus amount they'll pay all vary by site. Over time, a little cottage industry has developed. There are some players who will actively and aggressively seek out bonuses at all the sites. There is a website called BonusWhores that has emerged to help people find all the deals.
Here is what you need to know:
Bonuses are a great way to build a bankroll. You should try and search them out and play when they are available. There is a great post at 2+2 written by Homer on "Building a Bankroll for Newbies".
If you are playing at a site where you already have rake back, you need to know that the bonus amount will be deducted from the amount you earn in rake back. So you can't simply add the bonus on top of the rake back you are getting.
Bonuses are the highest earn per hand you can make. If you calculate return per hour, rake back is good, but bonuses are better. So you should choose to play at a site where you have a bonus before the site where you have rake back.
The bonuses are usually scalable. So if for example Party offers you $100 if you play 1000 hands by depositing $500, and you don't have time to play 1000 hands they you can just divide everything by 4 and play that way. ie. Earn $25 if you play 250 hands and deposit $125.
Most of the time, you can deposit the money and take it right back out with no consequences. After all, what the sites really care about is that you are going to play 500 hands or whatever there. They don't care as much about the actual money deposited. But you need to read the fine print.
The offers differ by site. PokerStars for example does not have a time restriction on how long you have to play. So always deposit the maximum and play it off as you like. Empire sometimes requires you play all the hands within just 3 days. So it varies. Note - Empire has been cracking down recently on people who only play there when they have bonuses. So I'd suggest that you play at the various sites occasionally even when you don't just have bonuses going. And don't immediately withdraw money when you're done playing off the bonus, if you can afford it.
Bonuses are offered by the sites mainly to lure you to their site to play. It costs the site very little because what they are in effect doing is simply not charging you any rake to play there for that period of time. From a business perspective, is a strategy designed to capture price sensitive switching consumers.
<! - end midbox - >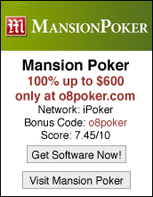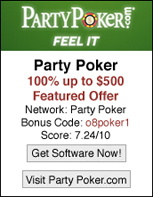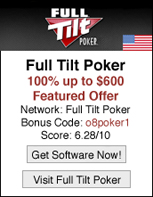 <! - end rightbox - >

<! - end rightbox - > <! - end clear - >

<! - end content - >