Everything you need to know about omaha 8 poker!
<! - end topbox - >
Our Best Bonus Offers
Poker Room
Special Bonus
Details
Mansion Poker
100% up
to $600
Read
Full Tilt Poker
100% up
to $600
Read
Absolute Poker
150% up
to $500
Read
Ultimate Bet
111% up
to $1100
Read
Titan Poker
50% up
to $200
Read
Party Poker
100% up
to $500
Read
Pacific Poker
100% up
to $400
Read
Everest Poker
100% up
to $200
Read
Bwin Poker
100% up
to $500
Read
<! - end leftbox - >
Website Reviews
Strategy Sites
Poker Shows/Videos
Computer Software Sites
Blogs
Here are some blogs I like reading
Well Known Pro's Blogs

Pro Player's Blogs

NL player's blogs
A number of other well-known players like Greg "Fossilman" Raymer, John Juanda, Howard Lederer, Eric Lindgren and others have sites, but for the most part, I don't think they offer much in general, and certainly nothing on O8.
Math of Poker
Misc Poker Links
Pot Limit Omaha 8/b Links
This game is the closest cousin to Limit O8. But sadly, there just aren't any real sites or books available on this game. Ray Zee and Bob Ciaffones' "Omaha Holdem" both offer a few comments, and Steve Badger has some useful thoughts, but after that there just isn't much info available. Here are the best links
Omaha High Links
These have nothing to do with O8, but sometimes I get frustrated folding so much and go looking for a game where i can gambool it up. That game is Omaha High, which is truly the action-loving maniac's game of choice. So if you're bored, read up so you don't lose your shirt in this monstrously high-variance form of poker.
<! - end midbox - >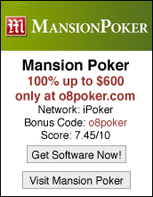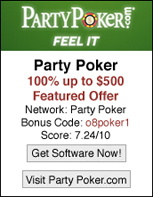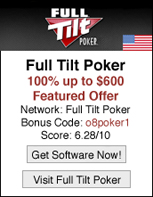 <! - end rightbox - >

<! - end rightbox - > <! - end clear - >

<! - end content - >