Everything you need to know about omaha 8 poker!
<! - end topbox - >
Our Best Bonus Offers
Poker Room
Special Bonus
Details
Mansion Poker
100% up
to $600
Read
Full Tilt Poker
100% up
to $600
Read
Absolute Poker
150% up
to $500
Read
Ultimate Bet
111% up
to $1100
Read
Titan Poker
50% up
to $200
Read
Party Poker
100% up
to $500
Read
Pacific Poker
100% up
to $400
Read
Everest Poker
100% up
to $200
Read
Bwin Poker
100% up
to $500
Read
<! - end leftbox - >
The top sites I'd recommend:
PokerStars - Largest current site. Known for its tourneys. Spreads O8 games at the very lowest micro limits so you can find a game no matter what your bankroll. Also spreads some very high limit games up to $75-150 in O8. The graphics are reasonable but smaller cards than on other sites. You can't data-mine here, so the data lovers among you won't have quite the extensive data collection on opponents. It does have one thing I like a lot though - it splits awards the low half, then the high half instead of splitting them off simultaneously, thus allowing you to more easily see who won what. It is reputed to have better security and anti-cheating measures than most sites, and is more trustworthy due to its size..
Full Tilt Poker - Second largest site. Known for the professional players who play in the games you do. Has ultra-high stakes games, up to $1k-2k Limit O8 and $200-400 PLO8. But the middle limits have less selection. Good graphics, and nice use of avatars. Also has a nice rakeback program. Had some tourneys to win seats to WSOP in O8. It is more trustworthy due to its size.
Party Poker - Used to be the largest site by far, now is 4th. Has good graphical interface, but poor customer support. Has reputation of having the fishiest players. Spreads O8 games starting at $.5-1 going up to $20-40, and usually has several tables going at each level, sometimes up to 10 tables at a given level. The 1-2 and 5-10 games are typically 6-max tables, so you often have to jump large $$ amounts near those inflection points. Has some SNG, or 1-table tourneys you can get into too. Or it did the last time I checked, since U.S. players can't play there anymore.
Other good sites
<! - end midbox - >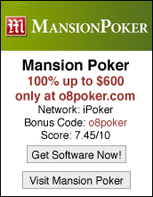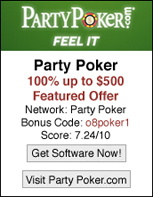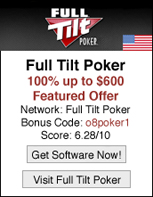 <! - end rightbox - >

<! - end rightbox - > <! - end clear - >

<! - end content - >