Everything you need to know about omaha 8 poker!
<! - end topbox - >
Our Best Bonus Offers
Poker Room
Special Bonus
Details
Mansion Poker
100% up
to $600
Read
Full Tilt Poker
100% up
to $600
Read
Absolute Poker
150% up
to $500
Read
Ultimate Bet
111% up
to $1100
Read
Titan Poker
50% up
to $200
Read
Party Poker
100% up
to $500
Read
Pacific Poker
100% up
to $400
Read
Everest Poker
100% up
to $200
Read
Bwin Poker
100% up
to $500
Read
<! - end leftbox - >
Excellent, Must-Buy Books to Help your O8 Game
The Theory of Poker by David Sklansky
The Mac-Daddy of all Poker books. Teach you how to think about all forms of poker. It's principles are highly relevant for O8.
Small Stakes Hold 'em by Ed Miller, David Sklansky Mason Malmuth
Lays out the thinking for small-stakes limit games very well. Obviously, it's for holdem, so you'll have to think about how the principles transfer, but its section on counting outs, equity, forgoing a flop advantage to wait for the turn are all very relevant to O8.
Hold'Em Poker for Advanced Players By David Sklansky and Mason Malmuth
Superb guidance for limit poker. The way you should think about limit games is very useful, particularly the sections about checking and calling, and not betting when only a better hand will call.
Excellent Books, But Not So Relevant To O8
Middle Limit Hold'Em Poker by Bob Ciaffone and Jim Brier
An excellent book for any kind of Holdem. Gives 400 examples of all sorts of Holdem situations, broken down into category like paired boards, monotone boards, coordinated boards, etc.. It's analysis of the flop texture and most important things to be thinking about is excellent, even if the advice it gives based on that is a bit weak-tight. This book helped my NL game more than any other book and its not even geared for NL. If you learn best by seeing how an expert would evaluate a bunch of different very specific situations, then this book is one of the best poker books out there, period.
Harrington on Hold 'em Volume 1 by Dan Harrington
An excellent book on Tournament play. Must buy for playing any kind of tournament, even O8
Harrington on Hold 'em Volume 2 by Dan Harrington
An excellent book on Tournament play. Must buy for playing any kind of tournament, even O8
Doyle Brunson's Super System I : A Course in Power Poker by Doyle Brunson
The book that started it all. Very good NL and Limit HE chapters
Pot-Limit & No-Limit Poker By Stewart Reuben and Bob Ciaffone
The best book currently available on how to play NL games. Its principles are very relevant for PLO8 games.
Weighing the Odds in Holdem Poker by King Yao
I haven't read this yet, but its gotten such good reviews from others that I'll mention it here until my copy shows up. I've read some selected chapters and seen the table of contents. From what I understand it takes a fairly mathematical approach and focuses on Limit Holdem. I'm looking forward to reading this.
Good Books, You'll Pick Up Some Helpful Tips
Getting Started in Holdem by Ed Miller
I haven't read much of this since it is for beginner's. But Ed's other book was great so this should be a good place to start for newer players.
Tournament Poker for Advanced Players by David Sklansky
Decent book, but not as good as the other 2+2 books. It does have the Gap Concept which is critical for understanding Tournament play, however. On the whole, however, you can skip this and go straight to Harrington's books.
How Good Is Your Pot-Limit Omaha By Stewart Reuben
Very good book for playing Pot-Limit Omaha High games. It provides excellent situations and analysis, but keep in mind that the author plays very loosely, is playing deep-stacked, and is against very familiar opponents
Winning Low-Limit Hold'em (2nd Edition) by Lee Jones
Good starting book for Beginners for low-limit holdem games. Was the best book for this until Small Stakes Holdem came out. Those who like simplicity and aren't math-oriented might prefer this to SSHE.
The Psychology of Poker By Alan N. Schoonmaker
Good book for understanding the motivations and playing styles of both you and your opponents. My favorite section was on understanding your own motivations and how to respond to that
Other Poker Books You Could Try
Caro's Book of Poker Tells by Mike Caro
A great read for anyone who is going to be playing live poker. It goes thru 60+ examples of the most physical tells people have. It covers how people bet, what they do with their hands, where they are looking and what they do with their chips. I found it reasonably helpful for live play.
Improve Your Poker by Bob Ciaffone
Overall a good book. It covers a wide range of topics in more of an essay-style format. Things like money management, going pro, big bet poker, reading opponents, and bluffing are coverd. I like Ciaffone's books and would recommend this getting this, but after a number of others ones are already in your library.
The Complete Book of Hold 'Em Poker by Gary Carson
Haven't read this, but from leafing thru it I'd say it covers most topics with reasonable competence.
Inside the Poker Mind: Essays on Hold 'em by John Feeney and David Sklansky
I read thru big chunks of this in the book store, and thought it was moderately helpful but not worth buying.
Internet Texas Hold'em: Winning Strategies from an Internet Pro By Matthew Hilger
Haven't read this, but from leafing thru it I'd say it covers most topics with reasonable competence.
Zen and the Art of Poker : Timeless Secrets to Transform Your Game By Larry Phillips
This takes some principles of Zen Buddism and some thoughts from Sun Tzu's the Art of War and applies them to poker. Its not bad and there are certainly few top notch books on the mental side of poker. So I found some of this helpful, but on the whole I would not recommend getting this.
Championship No Limit & Pot Limit Hold 'Em by Tom McEvoy and T.J. Cloutier
I have mixed feeling about all of McEvoy and Cloutier's books. Overall, they are fairly basic and intended for beginner audiences. They have some good straightforward ideas and ways of covering holdem hands, so if you are new these do a good job of getting you up to speed in a simple way. However, after that I tend to disagree with some of their ideas for advanced players, and think they are a bit too weak-tight for some of the games I've seen. On balance, if you are new to NL holdem and want some simple advice, then these can be worthwhile.
And finally, Fetchbook finds the cheapest online retailer for a given book.
<! - end midbox - >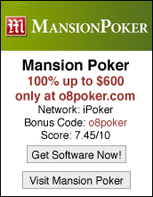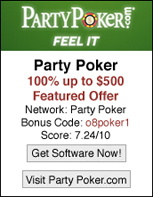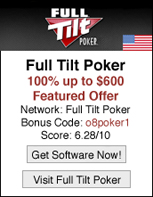 <! - end rightbox - >

<! - end rightbox - > <! - end clear - >

<! - end content - >