Everything you need to know about omaha 8 poker!
<! - end topbox - >
Our Best Bonus Offers
Poker Room
Special Bonus
Details
Mansion Poker
100% up
to $600
Read
Full Tilt Poker
100% up
to $600
Read
Absolute Poker
150% up
to $500
Read
Ultimate Bet
111% up
to $1100
Read
Titan Poker
50% up
to $200
Read
Party Poker
100% up
to $500
Read
Pacific Poker
100% up
to $400
Read
Everest Poker
100% up
to $200
Read
Bwin Poker
100% up
to $500
Read
<! - end leftbox - >
O8 Poker Books
Overall, I am not impressed with the O8 books out there. Zee's book is the best, but is pitched to the advanced player. SS2 is quite solid, but a bit limited in scope and specifics. Tenner provides helpful basics for those starting out, and Capelletti covers a broad range with reasonable effectiveness but is so poorly organized you really need to dig. Maybe I'll write a book!
High-Low-Split Poker by Ray Zee
Summary: Excellent book overall. Most useful for intermediate/advanced players to deepen their understanding of the game, but still helpful for newer players. Reminds me of "Holdem Poker for Advanced Players" HPFAP by Sklansky. I'd recommend buying this, and consider it best overall O8 book even though it is somewhat limited in scope.
Pro's: Covers a bunch of different very specific situations, and gives great guidance and thought process on what's important, and what exceptions there are. Offers you two for the price of one since it covers Stud 8/b too. Cons: It is geared towards advanced players so doesn't have many of the things beginning and intermediate players need. Many of the situations are subtle so it can be deceptively simple when you first read it. But its well worth a 2nd, 3rd, 4th read.
Winning Omaha/8 Poker by Tenner/Krieger
Summary: Good book for beginners to get started with. It reminds me a lot of Lee Jones Winning Low-Limit Holdem - very specific basic advice for a reasonably wide range of common situations. Some of the best material, on starting hands, is available in their old CardPlayer articles.
Pro's: Well organized, has a good section on starting hands, strong cookie-cutter advice on what to do on a wide variety of flop/turn/river when you hold certain hands. ie. "When you have a straight draw and flushdraw but low is possible then check-call" - this will keep beginners out of trouble and help them calibrate the strength of post-flops hands, but is too simplistic for the advanced player. Also has some other bits of useful info, like how to think about AAxx hands, and chances of hitting low draws given your number of low cards. Cons: It's a little light on the theory and principles for good O8 play to help you think for yourself, and doesn't have many hand examples on what to be thinking about in a given hand. It doesn't have any material on how to read boards, it's starting hand advice is a bit loose for a beginner, and there's lots of useless filler material in book.
How to Win at Omaha High-Low Poker by Mike Cappelletti
Summary: Helpful for beginners/intermediates to get better at playing hands and understanding promo-raises, if you can get thru the extremely disorganized material. Reminds me of a decent series of CardPlayer articles stitched together.
Pro's: Good starting hand coverage including how you want to play the various starting hands, good summary of concept of Promo raises, and whether you want to be calling or raising on specific hands. Has lots of examples of hands he played and what he was thinking, and has quite a few bit of good Omaha math in here, if you can find it all. Cons: Very disorganized book - he needs an editor more than Sklansky does. You really need several readings to get the most out of this. Also, its fairly simplistic in its advice and guidance. Doesn't have much in the way of good theory –more practical, and doesn't translate the math into useful info very well. Has some filler too. Note: many others have written scathing reviews criticizing this book; I still think it has a lot to offer but you need to temper your expectations.
Doyle Brunson's Super System II By Doyle Brunson et. al.

Summary: Good overview chapter to help Intermediate players understand the game better. I wasn't impressed with the book as a whole, but the O8 chapter is one of the better ones. Pro's: Does the best job of talking about the theory/principles of good O8 play, to give you the best opportunity to then teach yourself more about the game. Covers starting hands but not in great detail. Has some examples for reading the board. Covers some good postflop info on what is most important on each street with certain types of hands, but not in excessive detail. Was written for Doyle and Bobby Baldwin by Mark Gregorich, who's been mentioned as the best O8 cash game player out there. Well communicated material, too. On of the few books mentioning shorthanded play. Cons: It's just a one chapter in a larger book, so its limited in the scope and depth it can go to - it has 80 pages on O8, while Tenner, Cappelletti and Zee all have 170+ for example. It doesn't have enough playing examples to be a stellar book, and is a bit short on the math. But I agreed with everything in it and thought it was solid advice.
Omaha High-Low: Play to Win with the Odds by Bill Boston
Summary: Good Supporting material for Advanced players. It's essentially a summary of the author's study of a wide variety of O8 starting hands when put thru simulations in the Wilson O8 software. I'm not done reading this yet.
Pro's: Offers some statistical guidelines around which hands will deliver you the most profit and which to avoid. If you play a lot of O8, it should pay for itself. Cons: It's a math-statistics heavy reference book. Simulations don't necessarily mimic reality.
Championship Omaha: Omaha High-Low, Omaha High and Pot-Limit Omaha by T. J. Cloutier
Summary: Decent coverage of some of the basics of O8
Pro's: Covers some starting hands, and how he'd play them postflop. It's an easy read, simple to understand and straightforward. Con's: The O8 section is just one chapter in a larger book, with just 40 pages on O8, so the information is pretty limited. The info it does have is covered in more complete ways elsewhere. But TJ's stuff is always worth reading, so have a look in the bookstore.
The Winner's Guide to Omaha Poker by Ken Warren
Summary: Decent reference book for help on reading hands, but has virtually no info beyond that. It's worth a scan in the bookstore.
Pro's: It's got quite a few examples of how to read boards, and has a good section comparing Hold'em to Omaha. Con's: It's not really a book as much as it is a bulleted list of thoughts combined with some hand examples. It covers both Pot Limit Omaha High, as well as High-Low, and is not clear which its referring to a lot of the time.
Play Poker Like the Pros by Phil Hellmuth
Summary: Adequate - pretty simplistic fly-by coverage of some basics.
Pro's: Lists the ranking of very best starting hands without giving background or specifics, and has some thoughts on how to play a few hands. Offers some good players' different philosophies. Cons: The O8 section is just one chapter in a larger book, with just 40 pages on O8, so the information is pretty limited. The info it does have is covered in better and more complete ways elsewhere, but if you get this as a gift from your grandma it shouldn't hurt your game.
Omaha Hold'em: The Action Game by Bob Ciaffone
Summary: Very good book for Pot Limit Omaha. Has some good supporting tidbits on Pot Limit O8 and Limit O8.
Pro's: You should buy this if you're going to be playing PLO, and then you'll get a couple freebie chapters on PLO8 and O8. This has one of the few sections on how to play PLO8 that is published. Cons: Extremely limited material on PLO8 and O8, something like 10 pages or so. But it has some thoughts and I like Ciaffone's other books so I'll toss it in.
Omaha High-Low Poker by Shane Smith
Summary: A very-hard-to-find-book that I haven't read. Others have given it lukewarm reviews.
And finally, Fetchbook finds the cheapest online retailer for a given book.
<! - end midbox - >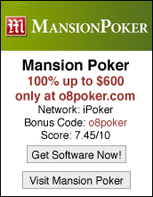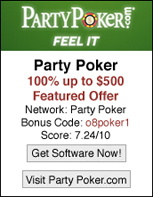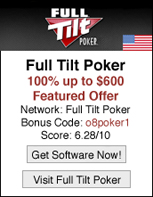 <! - end rightbox - >

<! - end rightbox - > <! - end clear - >

<! - end content - >