Everything you need to know about omaha 8 poker!
<! - end topbox - >
Our Best Bonus Offers
Poker Room
Special Bonus
Details
Mansion Poker
100% up
to $600
Read
Full Tilt Poker
100% up
to $600
Read
Absolute Poker
150% up
to $500
Read
Ultimate Bet
111% up
to $1100
Read
Titan Poker
50% up
to $200
Read
Party Poker
100% up
to $500
Read
Pacific Poker
100% up
to $400
Read
Everest Poker
100% up
to $200
Read
Bwin Poker
100% up
to $500
Read
<! - end leftbox - >
Hand 8: Buying a Free Card (and playing weak hands)
POKERSTARS GAME $5/$10 - September
Seat #8 is the button
Seat 3: Villain ($381 in chips)
Seat 4: Folder ($50 in chips)
Seat 5: RandomGuy ($22 in chips)
Seat 7: OtherDude ($273 in chips)
Seat 8: Hero ($126.50 in chips)
Villain: posts small blind $2
Folder: posts big blind $5
*** HOLE CARDS ***
Dealt to Hero [5

A
J
8
]
RandomGuy: calls $5
OtherDude: calls $5
Hero: calls $5
Villain: calls $3
Folder: checks
This is a shorthanded game, so with only 5 opponents and position on the button, I will play A5s. I might raise this hand shorthanded if I thought it might knock out some competition, but here I didn't think it would so I just limp.
*** FLOP *** [Q
7

T
]
Villain: bets $5
Folder: folds
RandomGuy: folds
OtherDude: calls $5
Hero: raises $5 to $10
Villain: calls $5
OtherDude: calls $5

The first thing to notice is that I have a double gut-shot - - any K or 9 will make me a straight, although only the K outs are to the nut straight. The other key features on this flop are 1) it's short-handed so a 9 is still likely to make the best hand here, 2) it is rainbow, so all my straight outs will be good
One of the keys to shorthanded play is aggression, so I raise here. My objectives are:
I hope to get a free card on the turn. Many times people will check to the raiser, so it's fairly likely I can see the river for just the additional $5 bet on the cheap street (the flop). This is my main reason for raising - seeing cheap turn/river cards.
I want to see if anyone has a real monster like QQ or QJT9. If so, they will likely re-raise me now and that will make it an easy decision for me to fold if the board pairs on the turn or river, so the second benefit of raising the flop is to make my decisions on the turn/river easier.
*** TURN *** [Q
7

T
] [K
]
Villain: checks
OtherDude: checks
Hero: bets $10
Villain: calls $10
OtherDude: calls $10
I hit my K for the nut straight, so obviously I bet out. Since both are still here, I would have checked if I had missed here.
*** RIVER *** [Q
7

T
K
] [4
]
Villain: checks
OtherDude: checks
Hero: bets $10
Villain: calls $10
OtherDude: folds
*** SHOW DOWN ***
Hero: shows [5

A
J
8
] (HI: a straight, Ten to Ace)
Villain: mucks [Q
6
6
7
]
Hero collected $103 from pot
No low hand qualified
On a sidenote, I think Villain's call from the SB with that hand is marginal.
First, let's look at the arguments FOR calling:
He is getting good odds - a $3 call to win $22
He has a reasonable hand - roughly ~top 50% of all hands
Against my actual hand, he has decent chances, as 2dimes rates me only a 54% to 46% favorite
Now the arguments against calling:
He still must beat 4 other players to win
He is out of position in the SB for the whole hand
Very importantly, it is difficult for him to scoop. If he hits strongly with a 6 for example, then its likely a low will be made. If he gets Q7 then either lows or better two pairs are possible. Net, its hard to scoop.
<! - end midbox - >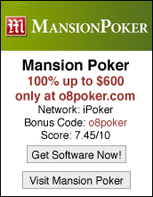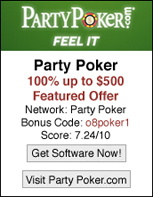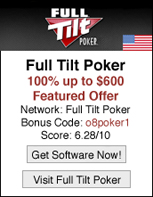 <! - end rightbox - >

<! - end rightbox - > <! - end clear - >

<! - end content - >